As part of the TOURISTIC project, the partnership is currently developing training content for teachers, educators and volunteers working or supporting disabled people by helping them develop Digital Skills applied to the design of innovative commercial services and products in Online Accessible Tourism, creating new skills pathways and labour opportunities for disabled people in Europe, supporting ICT-based teaching and assessment practices and promoting the transparency, validation and recognition of skills and competences acquired through OER.
INQS, as part of this process, is responsible for developing the curriculum for Module 4: Commercial awareness & inclusive marketing communication. As part of this, INQS has been examining the use of resources to help utilise Tools for digital marketing and social media
In the past, IMC relied a lot on "traditional" media such as television or radio, but as the use of online tools has exploded during the last decade, a major shift in marketing has moved to online tools – in particular social media. The benefits of using social media is self-evident. While there are lots of different social media platforms, it is important where possible to be active on the most relevant and popular social media platforms. Some of the biggest for tourism include Facebook, Twitter, Instagram. In addition to social media, there are a wide wide variety of digital marketing tools in addition to social media – too many to get into here. Some useful graphics which can help list and categorise digital marketing tools can be seen from Smart Insights and from Louise Mayers but there are many many more similar guidelines and graphics out there. As outlined above, what is important is that you select the right tools for the right purpose for your audience – which can only be properly done when you gather information about and from them!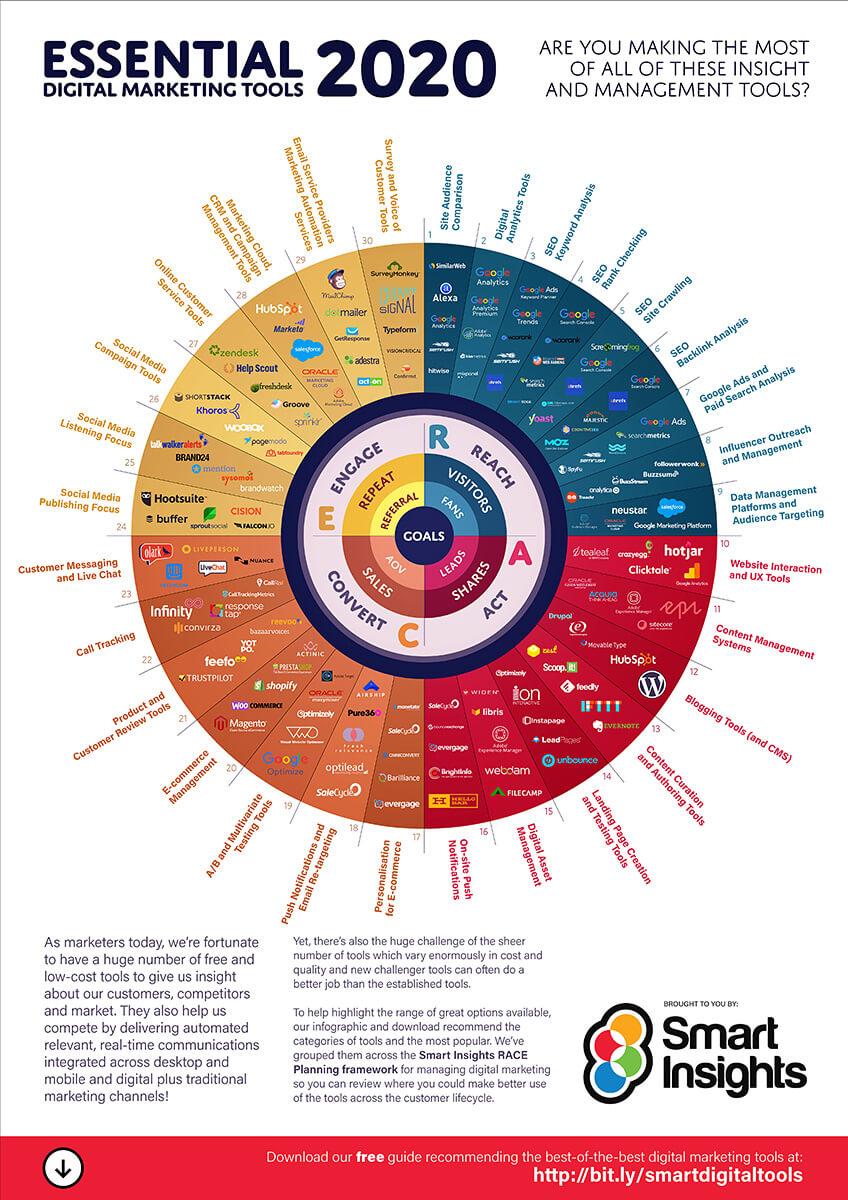 Digital marketing and Social Media is about enabling conversations. As Safko & Brake outline, "you cannot control conversations, but you can influence. Influence is the bedrock of economically viable relationships" (Safko & Brake 2008). Chaffey et al also noted that good use of such tools is "Monitoring & facilitating customer-customer interaction, participation and sharing through digital media to encourage positive engagement with a company and its brands, leading to commercial value." and that "Interactions may occur on a company site social networks and other third party sites." (Chaffey et al, 2019).